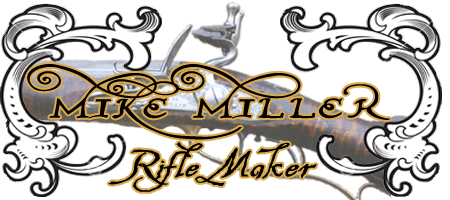 My Art
My focus is in rifles, pistols and fowlers of the 1700 to 1820 time frame. I have concentrated my efforts more towards arms from the Southern colonies but also guns from Europe and other colonies as well. I never stop investing in resource materials and studying as many original and contemporary guns as I can.
I try to give my customers what they ask for but I do insist on keeping the project within the bounds of what could have existed at the time period the customer is interested in. I am very interested in hearing what the customer wants. I do ask a lot of questions of the customer so I can get into his head and enable me to deliver the gun of their dreams and do it at a reasonable price. Some of the questions I will ask involve the intended use of the gun. Like are you a re-enactor or a shooter? What time period are you interested in? Be prepared for many more if you get in touch with me.
I use only the best components when building my guns. I may refuse a part supplied by customer if I believe it to be of inferior quality. I use barrels from Rice, Rayle, Getz and Green Mountain. The locks I use are from Jim Chambers or are made by hand by me. Other components are from reliable dealers or are made by me in the shop. If you have a special need, like a left handed gun, I will discuss this with you and am very open to your ideas. (I'm left handed too!)
I try to do as much of the work as I can with hand tools. This includes inletting barrels and other parts with chisels and gouges and planes. I shape my stocks with rasps and spoke shaves and chisels. I hope to be able to build the entire rifle, lock stock and barrel in the future. It is not unusual for me to make everything but the barrel now.
I use as many traditional wood and metal finishes as I can and am constantly looking for more accurate info on the old ways. In the summer of 2007 I started experimenting with charcoal bluing barrels. I will be adding this to my finish options.